Do you support a charity and are you looking for a way to raise funds? How about collecting foreign coins and leftover travel money. There is £1.8 Billion worth of foreign coins and leftover currency in British drawers. Wouldn't it be better if these coins and banknotes found their way to your charity tin, rather than just collecting dust? Here are some fundraising ideas about collecting foreign coins for charity.
How to collect foreign coins for charity?
Collecting foreign coins for your charity is a bit different than collecting normal spare change. Most people don't have foreign coins in their pockets. Therefore, you either need to give people some advance notice to bring their foreign spare change, or you can visit them at home.
Letting people know your charity is collecting foreign coins
Let people know that your charity is collecting foreign coins and leftover travel money. Post the message on your charity's website and in your newsletter. You could spread the message in local newspapers, on flyers, on a sign where many people pass, …
You could place donation tins at local shops, newsagents, … next to a sign where you explain that your charity is collecting foreign coins and banknotes.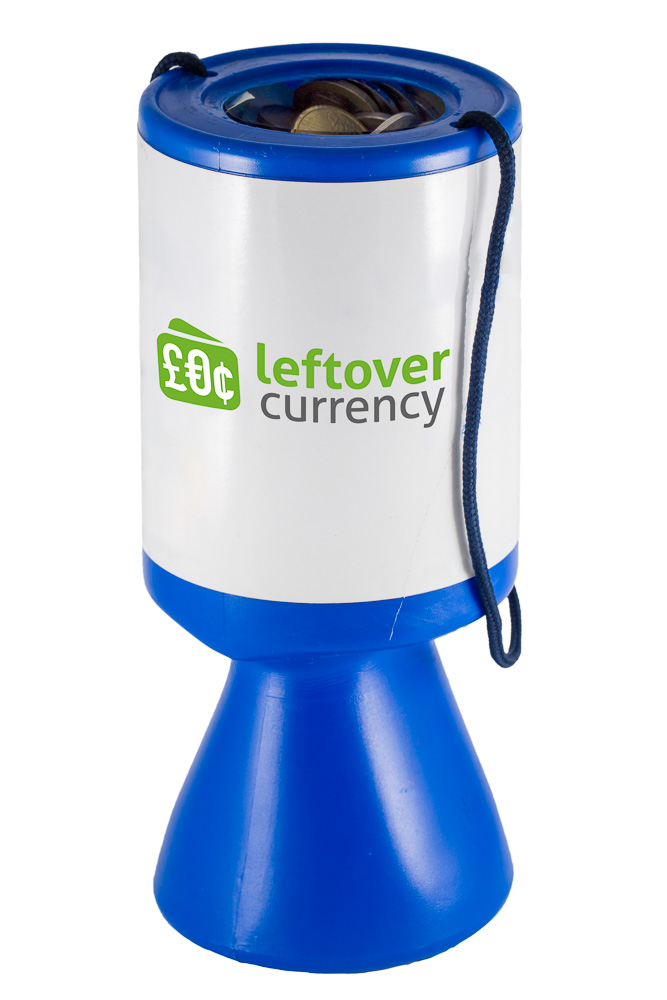 How to exchange your collected foreign coins for charity?
Having collected the foreign coins for your charity, now it's time to exchange them for cash. That's where we can help. At Leftover Currency we
exchange foreign coins
, as well as banknotes, including out-of-circulation withdrawn banknotes and pre-Euro currencies like
Spanish pesetas
.
We love supporting good causes. For this reason we add 5% extra to the value of your collected currency. Also, we will refund the postage it costs to send us the collected foreign coins and banknotes via Royal Mail 2nd class recorded. Lastly, we accept any coin and banknote for exchange, not just for the currencies shown on our exchangeable currencies page, but any currency. For each coin and banknote you will receive the highest of the following:
the monetary exchange value
the collector's value
the bullion value (e.g. for silver)
the scrap metal value
That way each coin and banknote donated counts. Even if the coin has no monetary value, the metal value will always mean it's worth something at least.
To qualify for the preferential charity terms, we ask that you add the charity name and number on the exchange form (or add this information in a cover letter attached to the form).
Promote your charity fundraising on the Leftover Currency website
If your charity is collecting foreign coins, do let us know. We can create a profile page about your charity fundraising on our website, for example like the
Dreams Come Tru
e profile page.
A charity profile page allows your charity to introduce itself to our site visitors, and explain what the raised funds will be used for. We create the charity profile page free of charge. We need a logo file, a few pictures and a short 2-3 paragraph text about your charity fundraising.
Our visitors will be able to donate the value of their leftover currency to your charity. If you are interested to feature your charity on our site, please contact us.
An overview of the charities we work with at Leftover Currency can be found on our charity page.