Would you be able to spot a fake 2 pound coin? Here are some handy tips and tricks to identify whether that £2 coin in your change is genuine or a counterfeit.
Are there many fake 2 pound coins in circulation?
Counterfeiters are turning their attention to £2 pound coins, following the introduction of the
new £1 pound coin
, which supposedly is impossible to counterfeit. When the old £1 pound coin was still in circulation, 1 in 30 £1 pound coins was a fake.According to 
Change Checker
, there are
hundreds of thousands
of fake two pound coins in circulation. Most of these counterfeit £2 pound coins originate from China, where so-called '
replica' £2 coins are manufactured and sold legally, but it is illegal to import them into the UK.
Police in Yorkshire arrested a fraudster who ordered thousands of fake two pound coins from China to sell at car boot sales.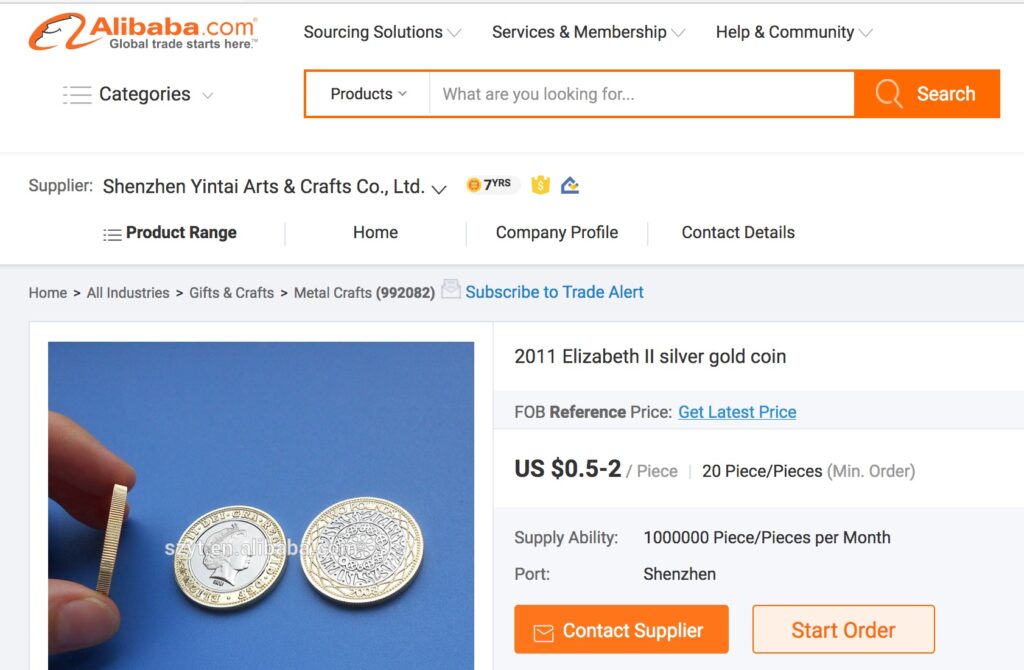 How to know a fake £2 pound coin from a real one
Some fake two pound coins are 
unsophisticated copies that are easy to spot. They don't weigh the same as a genuine £2 pound coin (12g), and they aren't made of two different alloys. Often they are simply pressed metal discs with a painted outer ring. Many of the crude fake £2 coins also don't have the correct edge inscription 'STANDING ON THE SHOULDERS OF GIANTS'. 
More sophisticated forgeries can be spotted by performing a number of visual checks:
(1) On a fake 2 pound coin, the silver-coloured core isn't quite flush with the gold-coloured outer ring. Fake £2 coin often miss the fine dots around the perimeter of the inner core.
(2) A counterfeit £2 piece has a lack of detail on the Queen's portrait. There's little texture to her hair, and her crown isn't distinct from her hair.
(3) Fake £2 coins are missing the initials of the designer (IRB – Ian Rank-Broadley) below the Queen's portrait.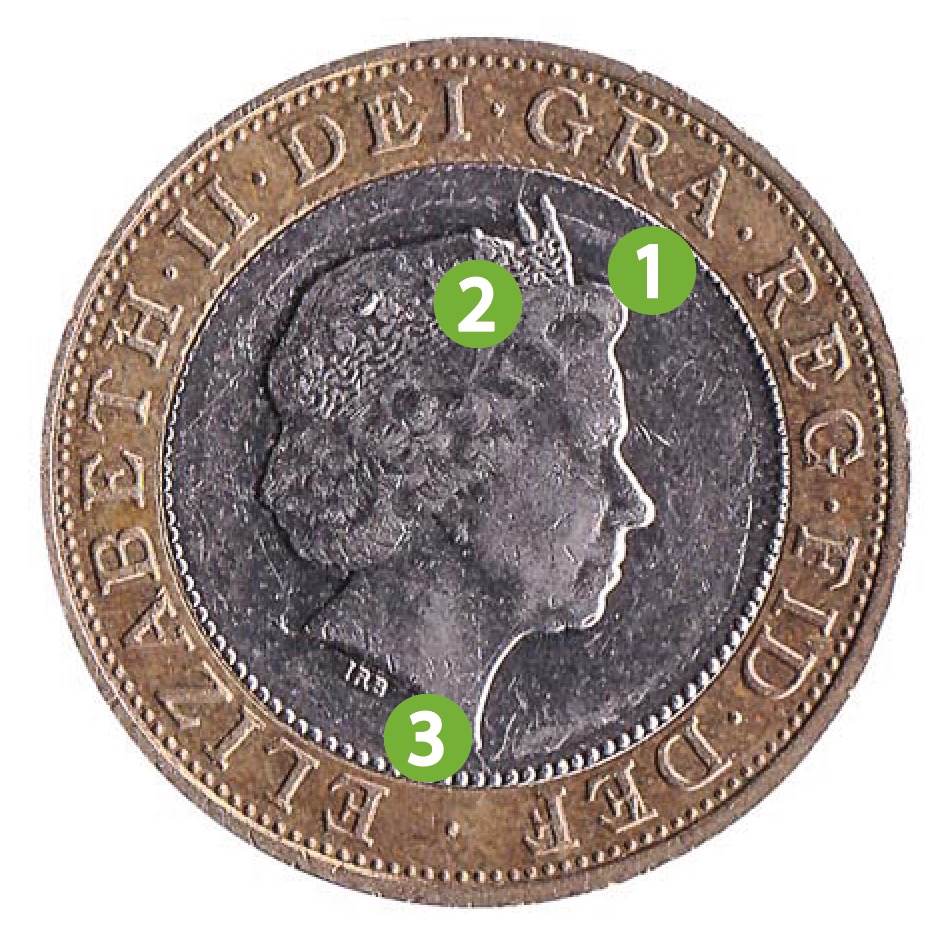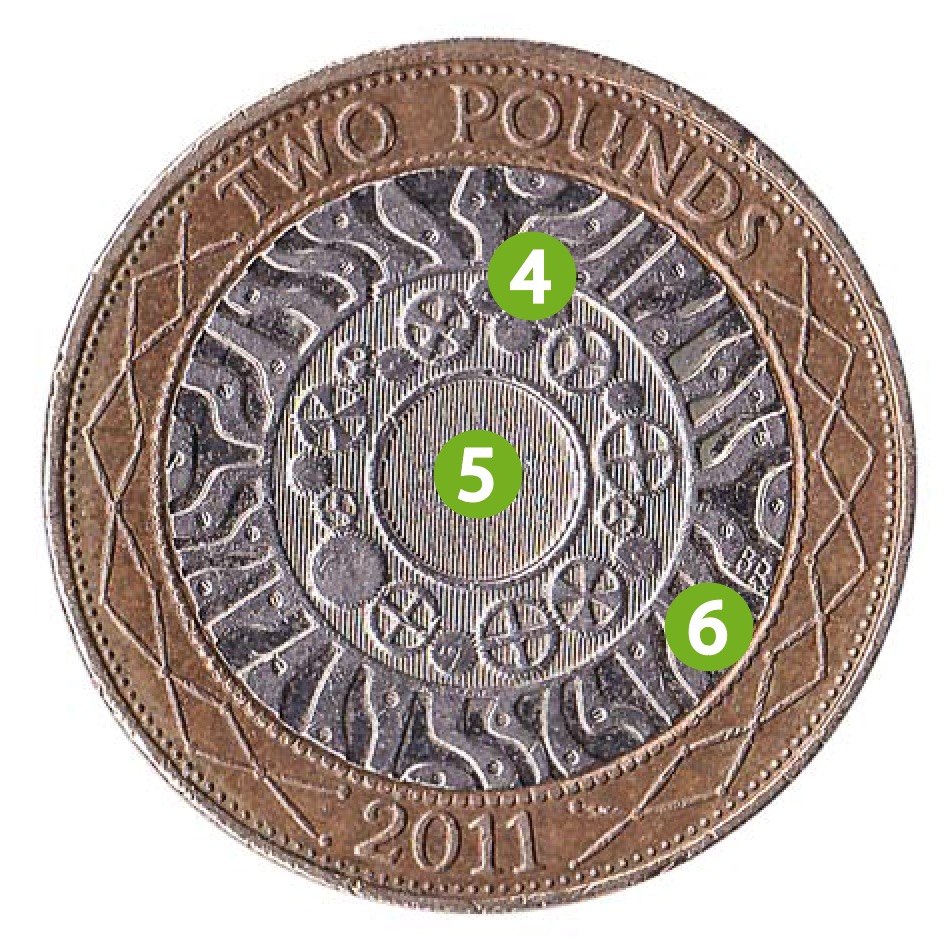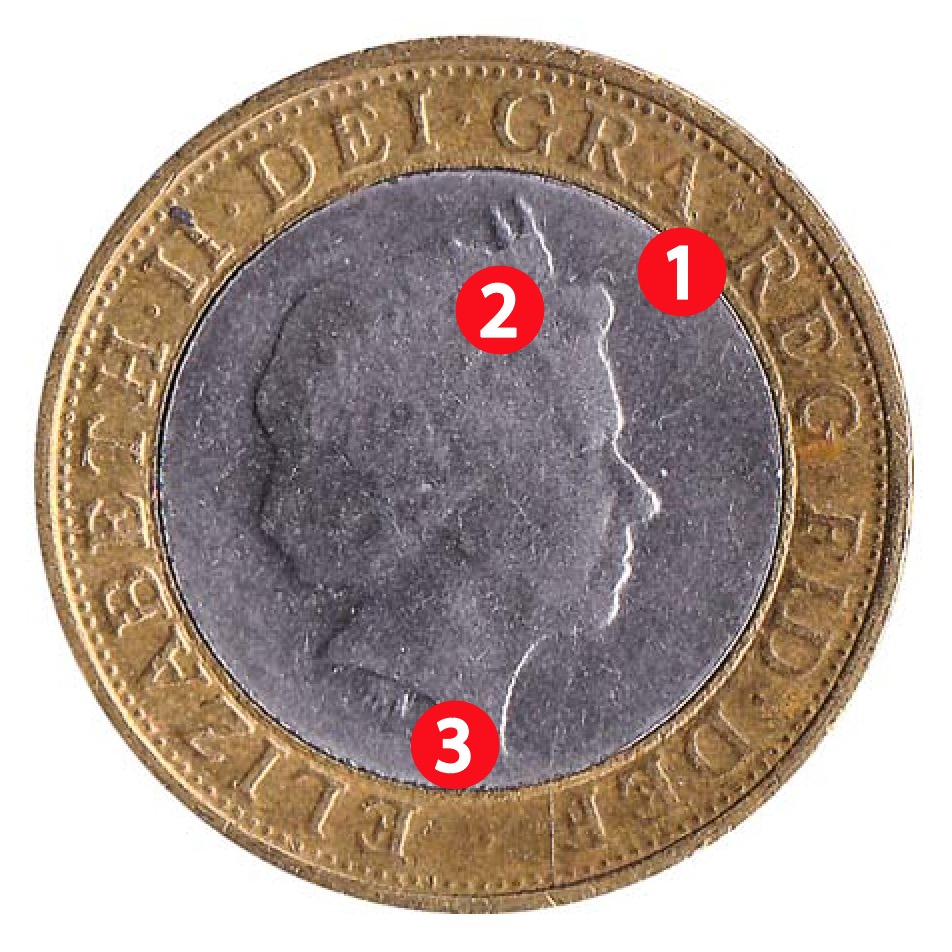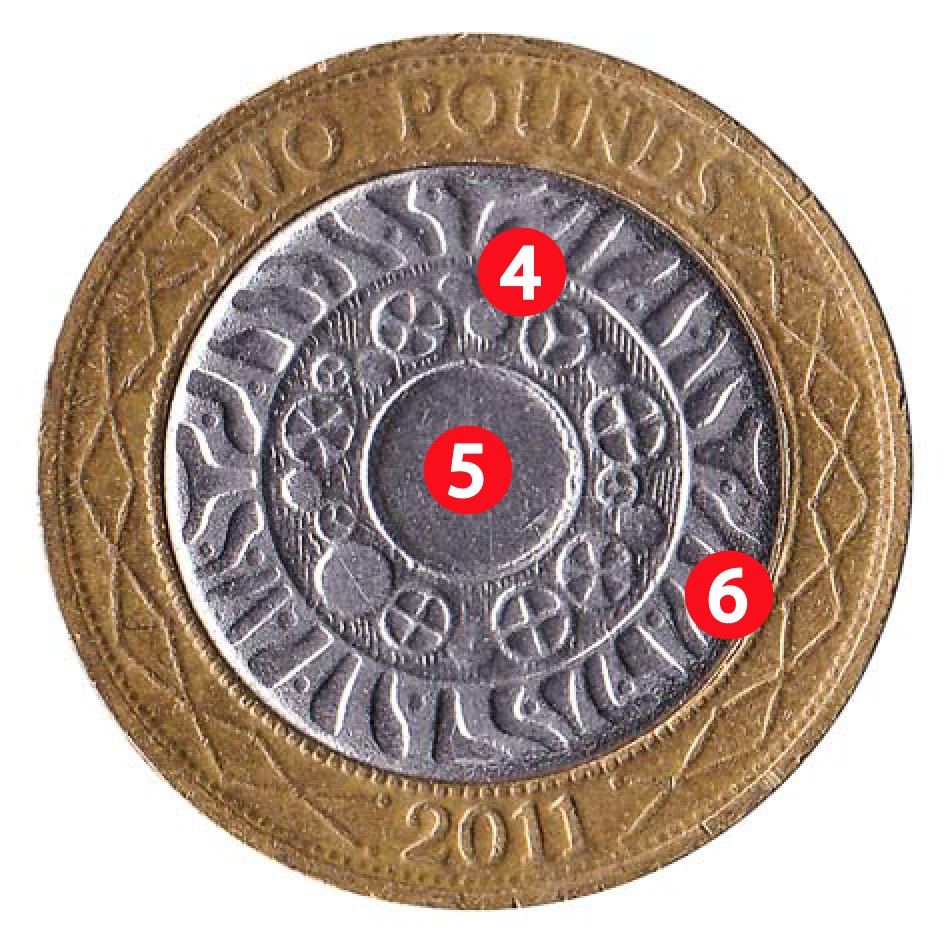 (4) The details on the reverse side of a fake 2 pound coin are less clear. On a genuine £2 coin you can see tiny cogwheels, where as on a fake £2 coin these are crude disks.
(5) The most common design of the £2 coin, the 'Technology' design, has a latent security image. It is not immediately apparent, but can be seen when the coin is tilted. Fake £2 coins are not only missing the more obvious parallel lines in the centre, they also don't have the latent security image.
(6) Counterfeit £2 coins don't have the designer's initials (BR – Bruce Rushin).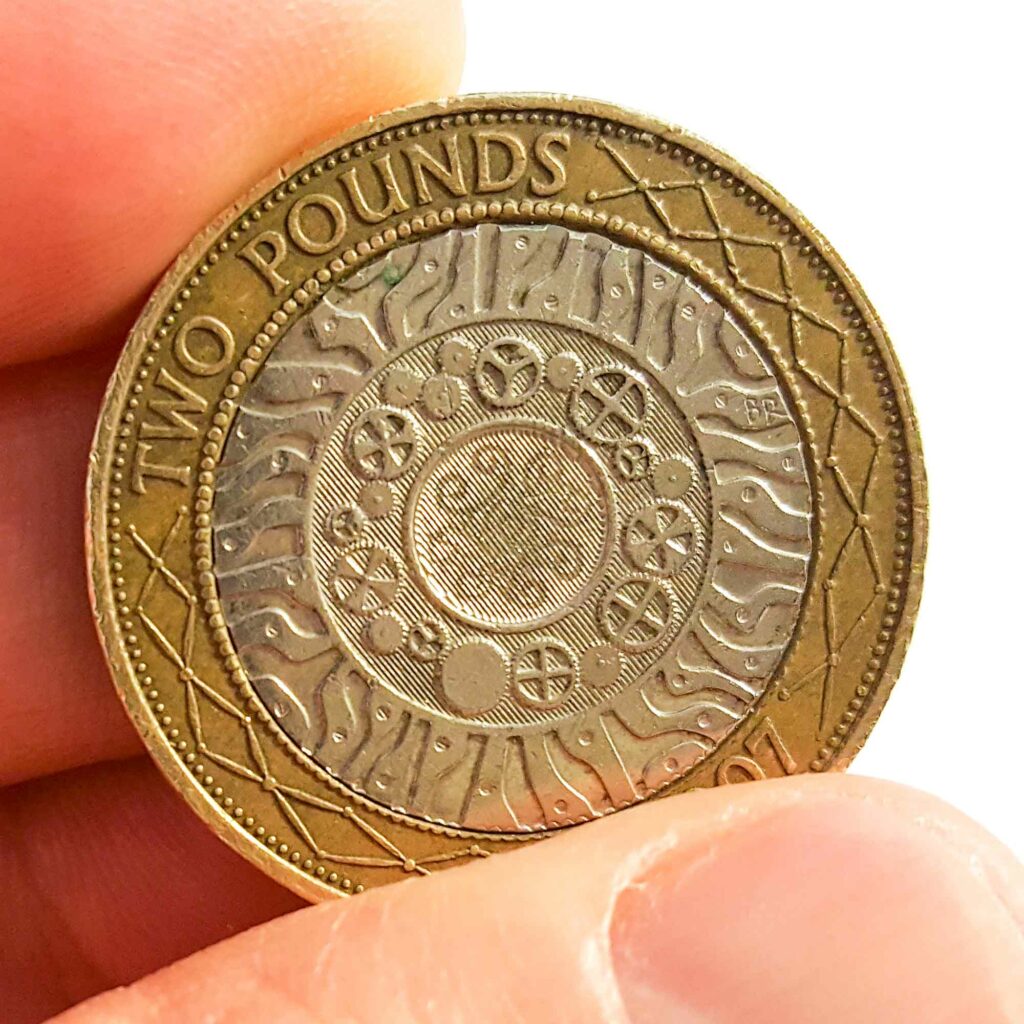 There are more than 60 different designs of the £2 coin's reverse side. Fake two pound coins in most cases have the 'Technology' design, but fakes with different designs have been spotted. In general, fake £2 pound coins lack the detail of the genuine versions. If you are in doubt, it's a good idea to compare the coin in question with a real coin or picture of one. Here are pictures of all £2 pound designs in circulation.
What to do when you spot a fake £2 pound coin?
If you spot a fake 2 pound coin in your change, you should certainly not try to spend it, as this would be an offence under the
Forgery and Counterfeiting Act 1981 (Section 15)
. The right thing to do is to hand the counterfeit coin over to your local police station. Unfortunately the coin will then be confiscated, and you won't receive a genuine £2 coin in return.
Handing in counterfeit coins will help the authorities to identify the types, quantity and quality of fake coins in circulation. It's also a good idea to make a picture of the fake £2 coin and make an online report of counterfeit coins here.