Rock stars really like money drops. Bands including Muse and Foo Fighters printed their own rock star money Dollar and Euro bills to give away at concerts. Here's a closer look at those awesome rockstar reproduction banknotes…
Foo Fighters dollars: In Rock We Trust
American rock band
Foo Fighters
commissioned $1.5 Million US dollars in reproduction $100 bills for their 2012 concerts in Reading and Leeds. US designer & developer
Lee Martin
 and creative agency
Morning Breath
 designed a rock-lookalike of the infamous
Benjamin Franklin 2006 series $100 US dollar banknote
.
15,000 of these rock star money bills were rained down on the Foo Fighters fans during the concert, launched from confetti cannons. From a distance the banknotes resemble $100 dollar bills. Upon closer inspection one can spot a number of interesting modifications. These include:
Benjamin Franklin is replaced by a skull.
Instead of '100', text in corners reads 'Foo'.
Issuing bank is 'Federal Reserve Dope'.
Serial number starts with FF for Foo Fighters
followed by 666 'the number of the beast'
then 2682012: concert date 26 August 2012
black seal reads 'Foo Fighters California'
green seal reeds 'In Rock We Trust 1994'
country name 'Foo Fighters of America'
signed 'Treasure Finder of the Foo'
'Six Zero Six' refers to recording studio 606
hand writing 'Claire' for song 'Planet Claire'
back side writing includes 'FF + UK = TLA'
TLA meaning Three Letter Acronym
URL on back inrockwetrust.co.uk
Muse: 20 Muso banknote Bank of Muse
When British rock band
Muse
went touring in 2013, they wanted to include a money drop on one of their concerts too. The Muse band members liked the Foo Fighters dollars, and so they contacted Lee Martin and Morning Breath to design a Euro version of the Foo Fighters reproduction banknote. The result is an altered version of the most widely circulated Euro denomination, the
50 Euros banknote from the first series
.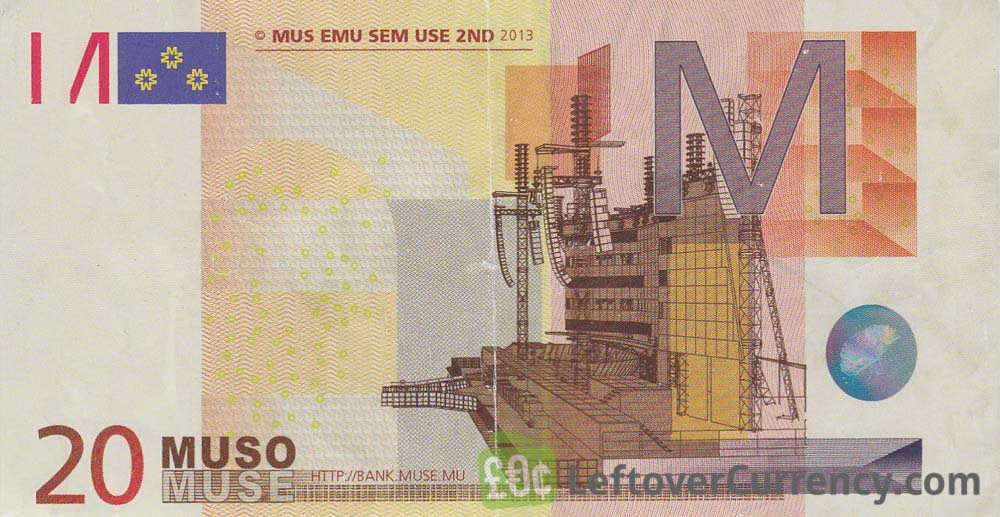 Fans at the 2013 Muse concert in Coventry were treated to a shower of thousands of 20 Muso banknotes launched from confetti cannons. From a distance these notes resemble 50 euro bills from the first series. But upon closer inspection it's easy to spot that these reproduction banknotes are something entirely different and unique: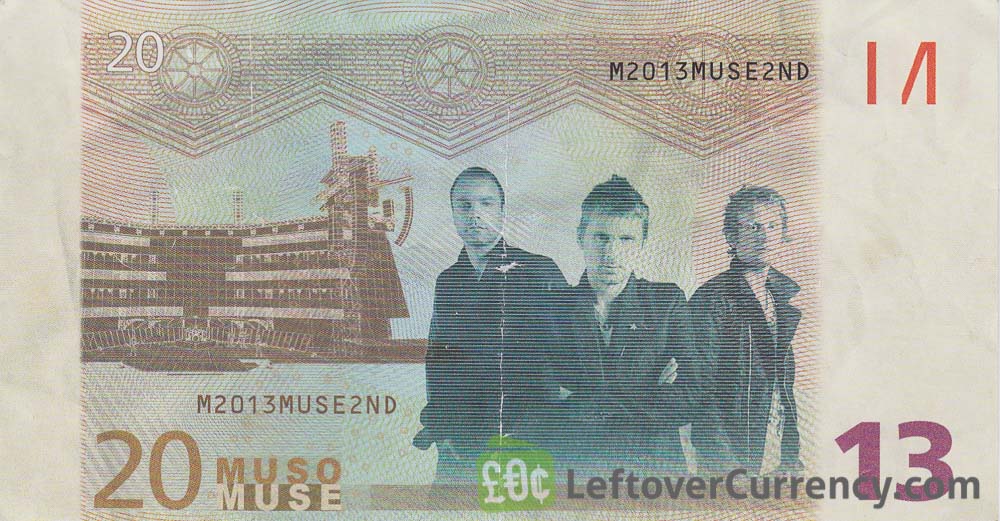 the colour resembles that of the €50 note
but the denomination of the Muse note is 20
top corner on both sides shows a partial 'M'
EU 12 stars replaced by 3 stars, Muse's headcount
EURO & EYPO replaced by MUSO & MUSE
Euro text reads BCE ECB EZB EKT EKP 2002
Muso text reads MUS EMU SEM USE 2ND 2013
2ND refers to Muse album 'The 2nd law'
Big 'M' instead of denomination (50)
Muse concert stage instead of Renaissance window
URL http://bank.muse.mu
serial number M2013MUSE2ND
number 13 on reverse side bottom right corner
back side has picture of Muse's three band members
Would these notes be considered counterfeits?
Would these reproduction banknotes be treated as counterfeits? It's unlikely that they would. It looks like the designers did their homework and made enough alterations to the original banknote designs so that people wouldn't confuse the rock star money for real money. And it's a good thing they did: We wouldn't want to see the Foo Fighters or Muse jailed for counterfeiting…