We have recently added Zambian Kwacha to the long list of currencies we convert to cash at Leftover Currency. We can now officially say that we exchange more than one hundred currencies from Albania to Zambia. Hurray!
Official Currency of Zambia
Zambia is a landlocked country in Sub-Saharan Africa. The country is the second-largest copper producer in Africa. Zambia is renowned for its breath-taking landscapes. Home to the worlds largest waterfall, Victoria Falls, and over 20 national parks, Zambia is a popular travel destination for adventurous holidaymakers.
The official currency of Zambia is the Zambian Kwacha. Its current ISO code is 'ZMW'. Before 2013, the ISO code was 'ZMK'. Current Zambian Kwacha banknotes are in denominations of K2, K5, K10, K20, K50 and K100 Kwacha. Coins in use are 5, 10 and 50 ngwee and 1 Kwacha. The ngwee is the subunit of the kwacha: There are 100 ngwee in one kwacha.
Zambia was the first African country to introduce polymer banknotes, in 2003. Polymer banknotes are no longer in use in Zambia today. All current Kwacha banknotes are made of paper.
Current Zambian Kwacha banknotes
In 2013, following years of high inflation, the Bank of Zambia redenominated the national currency. A new kwacha, with ISO code ZMW, was introduced to replace the old kwacha (code ZMK) at a rate of 1000 old kwacha to 1 new kwacha.
A new set of ZMW banknotes entered circulation. The design was similar to the old ZMK notes: Each note features the African fish eagle on the front side, and Lusaka's Freedom Statue on the back side.
In 2018, the Bank of Zambia began to introduce updated banknotes with new security features.

2 Kwacha banknote: This K2 banknote features an African sea eagle, Zambia's national symbol, perched on a branch and a Teak tree on the obverse. The reverse side of this 2 ZMW note features the Freedom Statue, located near the Lusaka National Museum.
5 Kwacha banknote: Zambia's national bird, the fish eagle, and a Mopane tree are featured on the front of this K5 Zambian Kwacha bill. The reverse of this 5 ZMW note features a lion head, a cassava plant and the Freedom Statue.

10 Kwacha banknote: The Zambian Coat of Arms, an African fish eagle and Sugar Plum tree are featured on the obverse of this 10 KMW note. The back of this 10 Zambian Kwacha bill features a porcupine, farmers harvesting rice crops from paddy fields and the Freedom Statue.
20 Kwacha banknote: A Mukwa tree and an eagle fish are featured on the front of this K20 Kwacha note. The reverse of this 20 ZMW note features a Black Lechwe and miners working inside a copper mine.
50 Kwacha banknote: A sycamore tree and an eagle perched on a branch are featured on the obverse of this 50 KMW banknote. The back of this K50 note features a leopard and the Headquarters building of the Bank of Zambia.
100 Kwacha banknote: A baobab tree and the Coat of Arms of Zambia are featured on the front of this K100 banknote. The reverse of this 100 ZMW note depicts a Cape buffalo and the National Assembly of Zambia.
Are my old Zambian Kwacha banknotes still exchangeable?
The demonetised Zambian Kwacha banknotes were removed from circulation in 2013 and no longer have a monetary value. If you have any Zambian banknotes dated before 2013, remember that their value in today's money would have been only 1/1000 of their denomination: For example, a banknote of 50,000 old kwacha was replaced by a banknote of 50 kwacha.
The old Zambian ZMK banknotes from before 2013 can no longer be used for payments in Zambia. Banks and exchange offices won't exchange these obsolete banknotes anymore. However, at Leftover Currency we continue to exchange the demonetised pre-2013 Zambian Kwacha banknotes.
At Leftover Currency we specialise in the exchange of old banknotes and coins, including obsolete currencies and demonetised paper money.
Get started here: Exchange your demonetised Zambian Kwacha banknotes.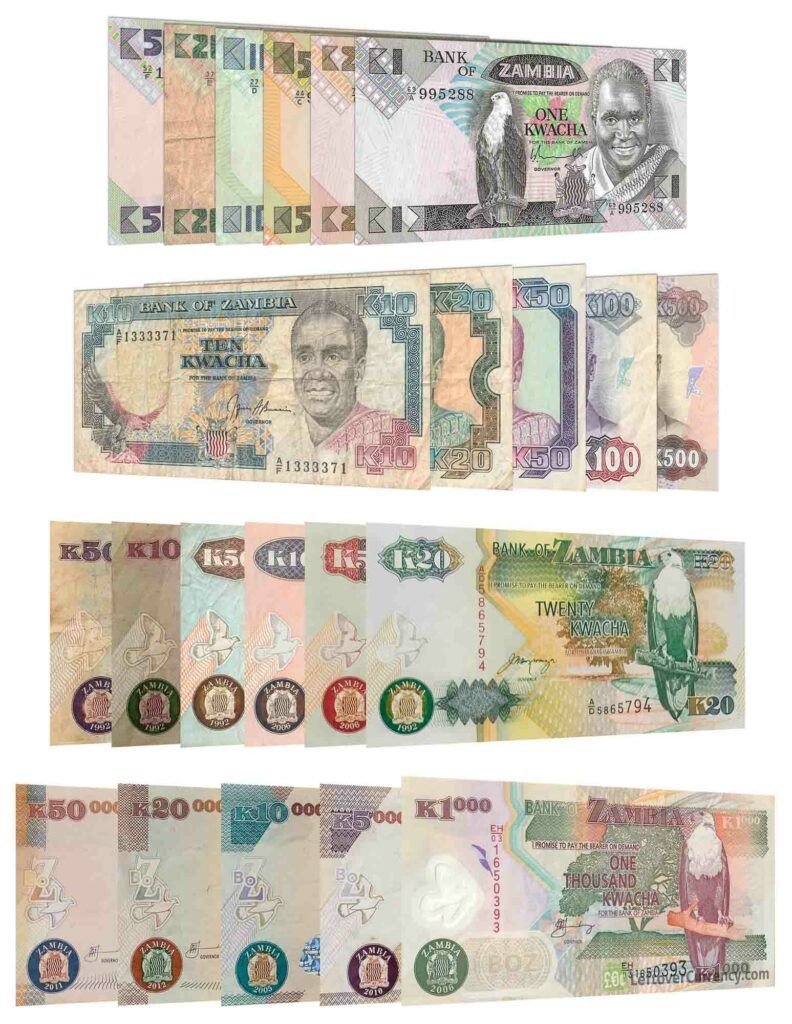 Which currency would you like to see next on the Leftover Currency website?
We are always adding new currencies to our website. Have your say and let us know which currency you would like to see next.