The 500 fils coin from the state of Bahrain was discontinued in 2011, following the Bahraini uprising. The reason why the 500 fils coin was cancelled had to do with the monument featured on the back side of the bimetallic 500 fils piece: the Pearl Monument.
The Pearl Monument: symbol of the Bahraini uprising
The Pearl Monument stood at the centre of the
Pearl Roundabout
in Bahrain's capital Manama since 1982, when it was erected on the occasion of the Gulf Cooperation Council (GCC). For this reason the Pearl Roundabout was also called the GCC Roundabout.
The Pearl Monument consisted of six sails holding up a pearl. The six sails or 'dhows' represent the six member states of the GCC: Bahrain, Kuwait, Oman, Qatar, Saudi Arabia and the United Arab Emirates. Bahrain's highest value coin of 500 fils (half a Bahraini dinar) featured the Pearl Monument on its reverse side.
In 2011, the Pearl Roundabout was the site of the Bahraini uprising. Inspired by the Arab Spring, several thousand demonstrators set up tents on the Pearl Roundabout to protest against the government. The uprising was crushed with violence, resulting in many injured protesters and at least four civilian deaths.
500 fils coin discontinued
One month after the demonstrations, the Pearl Monument was destroyed. The Bahraini government ordered to tear down the Pearl Monument because it had been 'violated' and 'desecrated' by the anti-government protests.
The Central Bank of Bahrain promptly discontinued the 500 fils coin that featured the Pearl Monument. The half-dinar coins were no longer minted and banks and individuals were asked to exchange their 500 fils coins for half dinar banknotes.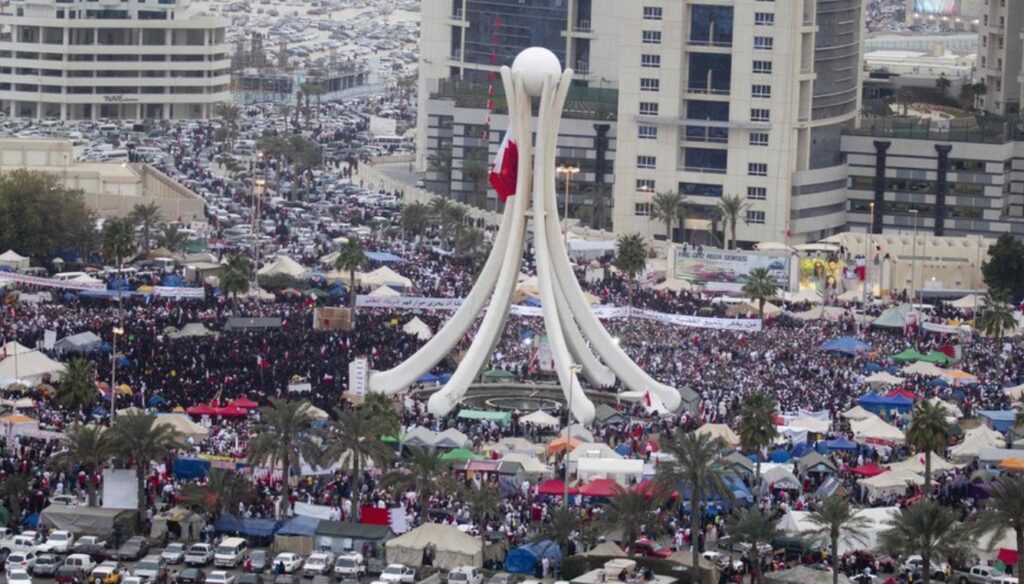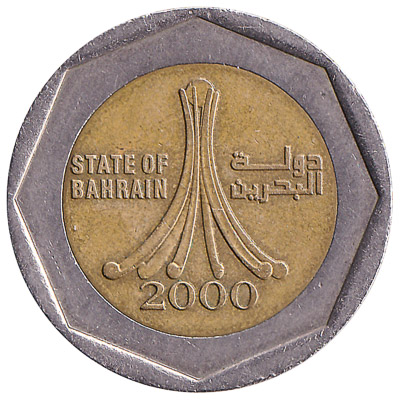 The Pearl Monument: A symbol erased
Today, more than six years after the Bahraini uprising, it is no longer possible to exchange 500 fils coins for banknotes. The Central Bank of Bahrain does not mention the 500 fils coin at all on its website. The 500 fils coins featuring the Pearl Monument have officially lost their monetary value.
The Pearl Roundabout has in the meantime been renamed the 'Al Farooq Junction'. It is no longer a roundabout, instead fitted out with traffic lights. Since 2015 the Al Farooq Junction is no longer accessible for the general public. The Pearl Monument, once the symbol of the Bahraini uprising, has been erased from daily life in Bahrain completely.
Current Bahraini coins
Today's highest value coin in Bahrain is the
100 fils coin
. The 500 fils coin was not replaced by a new coin, and it is one of very few cases where a coin was replaced by a banknote rather than the other way around.
Do you have Bahraini coins that you want to exchange for cash? At Leftover Currency we buy all current Bahraini coins from 100 fils to 5 fils. Unfortunately we cannot exchange the discontinued 500 fils coins: They no longer have any monetary value.
To get started: Exchange Bahraini coins