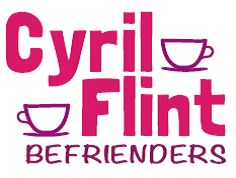 Donate your leftover currency to Cyril Flint Befrienders
With over 5 million elderly people living on their own, and 50% citing television as their main source of company, loneliness is an ever-present problem within our community.
Cyril Flint, an elderly pensioner living on his own in the Trafford (UK) area was a classic example of one such individual. Having spent 20 lonely Christmas holidays on his own since the passing of his wife, Cyril's story not only evoked a wave of compassion within the community, it inspired a group of people to do something to help, and the Cyril Flint charity was founded.
A free befriending and volunteering service for adults in later life
Cyril Flint befrienders are a a free befriending and volunteering service for adults in later life. The registered charity offers a free informal befriending service, designed to help prevent social isolation. It also hosts a monthly Cuppa & Company for all to attend and annual Christmas Party for all Befrienders and Befriendees.
Support Cyril Flint befrienders by donating your leftover currency
Donating your leftover currency or unused travel money is an easy way to support Cyril Flint. To get started with donating your leftover currency, download and fill out the
Cyril Flint exchange form
.
Befriending in action
Cyril Flint is an established befriending service that currently covers Trafford Didsbury and Chorlton. The Cyril Flint Volunteers spend an hour a week visiting lonely and isolated people over the age of 60 in these areas, befriending a person on a regular one-to-one basis.
This may be someone who lives alone, has little or no contact with friends and family and receives limited or no community support. Knowing that someone is going to pop in once a week can make a huge difference to these people.
Typical visit activities
Cyril Flint volunteers will pop around maybe for a brew and a chat, and just like a true friend they will always take time to listen to their Befriendee, sharing life's ups and downs. Befriendees often find that, as their new friendship grows, their confidence returns and they may feel more comfortable getting out in the community (perhaps with their volunteer's support). Cyril Flint Befrienders have seen some fabulous long term friendships develop and flourish, and they are keen to make lots more!
Help Cyril Flint volunteers with developing long term friendships by donating your leftover currency. To get started, download and fill out the Cyril Flint exchange form.
website: cyrilflint.org
Donate your leftover travel money to Cyril Flint
Do you have a drawer or jam jar, filled with foreign coins, left over travel money from previous holidays? Would you consider donating that forgotten currency to help fund a good cause?
It's easy to donate your leftover holiday cash; Simply fill out our charity exchange form and send it along with your currency to our Datchet office. We will exchange all currency, coins and notes, foreign and domestic, and donate the exchange value plus 5% extra to Cyril Flint.
How much of my donation goes to Cyril Flint?
We donate the complete exchange value plus 5% extra to Cyril Flint. There are no fees, neither do we subtract any commission. You will receive a confirmation email, containing the amount donate. We will share this information with Cyril Flint.
Which banknotes and coins can I donate?
You can donate any coins or notes, foreign or domestic. We will exchange whatever currency you send us and will donate the combined exchange value plus five percent extra to Cyril Flint.
We will exchange currencies listed on our exchangeable currencies page against the exchange rates shows.
All other banknotes and coins will be exchanged against their numismatic value, bullion value or scrap metal value, whichever is higher. It helps if you sort the currency before you send it. But if you are unable to sort your currency, don't worry. We will take care of the sorting and counting free of charge.