What are the most valuable banknotes we exchange here at Leftover Currency? Here is the top-5 most valuable banknotes, based on the value* you receive when you exchange them. (* Value on 31 July 2017)
10,000 Singapore Dollars: £4,567 GBP
First place in our top-5 of most valuable banknotes is for the
10,000 Singapore dollars bill
. If you have one, you can exchange it for a whopping £4,567 GBP! That should cover a holiday to Singapore for two…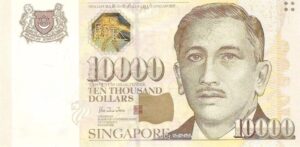 10,000 Brunei Dollars: £3,841 GBP
Second in the list of most valuable banknotes is the
10,000 Brunei dollars
. We will pay £3,481 GBP for it if you have one. That's a lot of money for one banknote…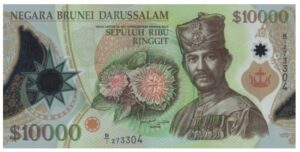 1,000 Pounds White Note: £920
The Bank of England is considering to scrap the
£50 banknote
because of its high face value. Well, there used to be a
£1000 pounds banknote
. If you have an old
£1000 white note
we will pay £920 for it. After the Singapore and Brunei 10,000 dollar notes (multiple types) this is the third most valuable banknote on our site.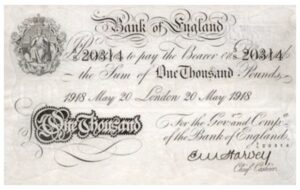 1,000 Australian Pounds: £825
The Australian Pound used to be the currency of Australia. The highest banknote issued was the
£1000 Australian Pound banknote
, which is the 4th most valuable banknote in our top-5. If you have one, we will pay you £825 for it.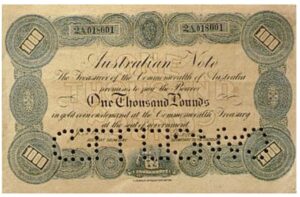 1,000 Swiss Francs: £710
The Fifth note in our top-5 of most valuable banknotes is a banknote that is in daily use in Switzerland: the
1000 Swiss Francs bill
. Its vertical design sets it apart from most other banknotes in the world. If you have one of these, we buy them for £710 each.
Other valuable banknotes
Other valuable banknotes are the
$1000 American Dollar banknote
, the
€500 Euro banknote
and the
500 Latvian Latu banknote
. Here is the full list of
most valuable banknotes
on the Leftover Currency site.
And what about the 20 Million Turkish Lira banknote you wonder? Well, it's only worth about £3 as you can read here.